New article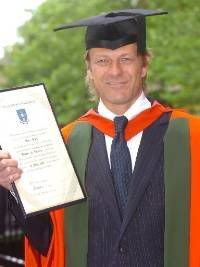 Handsworth lad's second degree



By Staff Copy

Sean Bean has achieved a new degree of fame - after being awarded a second honorary doctorate by his home city.

The Handsworth-born hero has become one of only a handful of people to be given the accolade by both city universities.

Sean was at the University of Sheffield's Octagon centre to be made a Doctor of Letters, taking time out from his busy acting schedule.

Sean was praised not only for his success on the big and small screens but also for his continuing commitment to Sheffield.

The "100 per cent Blade" has most recently hit the headlines for spearheading the campaign to overturn Sheffield United's relegation from the Premiership. The audience heard how Sean was set to take on a job as a welder before he discovered acting on a college arts course.

Sean received an honorary doctorate from Sheffield Hallam in 1997 - and showed his gratitude by later voicing a series of radio commercials for the university.