Just finished a new Sean Bean video *gasp* I know...it's
not
Mads!! But I think Sean was feeling a bit neglected, so I thought I'd play with him for a bit!
And of course...if I pick a Sean character to play with, it would be Jason Locke...I'm kinda weird like that....I love Jason!!
Anyway...if you don't like Essex Boys, you probably won't think much about this video....it's Sean at his bad-boy best!!
And if you haven't seen it yet...this does contain MAJOR plot spoilers!!!
Does a video make it legal? Well...just in case....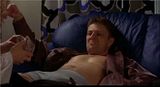 (
Collapse
)