16 July 2005
NEW LOVE, OLD BEAN?
By Jessica Callan
SEAN Bean poses with the new love of his life, actress Georgina Sutcliffe... who is 19 years his junior.
Read More

Friends of the Lord of the Rings star said he is smitten with the 27-year-old who he met at a Soho bar in London where she works part-time.

And they believe three-times married Sean, 46, is planning to propose to RADA graduate Georgina soon.

One said: "It's been a real whirlwind but they are very happy with each other.


Advertisement

"They met at a bar in Soho and have been together ever since. She's also been on the sets of his latest projects.


"The age difference doesn't bother them in the least and there's even been talk about having children in the future."


Dad-of-three Sean took Georgina to the New York premiere of his movie The Island on Tuesday.


The beaming couple held hands as they posed on the red carpet for photographers.


Georgina yesterday arrived back at her family home in West London.


But friends revealed she will shortly move into Sean's £2million Hampstead mansion.


When approached by the Mirror, she laughed and said: "We are not engaged."


Georgina has worked in local theatre and had a minor role in The New Adventures of Robin Hood. But she is due to appear in West End play Who Killed Mr Drum?


Sean divorced first wife, childhood sweetheart Debra Anderson, in 1981 shortly after they tied the knot.


He wed actress Melanie Hill in 1990 after living together for eight years.


They have two daughters Lorna, 18, and Molly, 14. But the couple split in 1996, with Yorkshireman Sean blaming it on his passion for football and Sheffield United.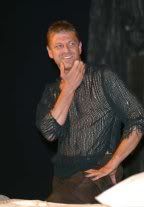 He wed Abigail Cruttenden, co-star on his hit TV drama Sharpe, a year later. They had a daughter Evie but divorced in 1999.