Got the news from an alert from Compleat, the official site for The Hitcher is up and running. It's normal as far as Official sites go, I'm never a big fan of them but It's nice to see Sean right there on the first screen that pops up :-)



Not a lot new (at least new to me) as far as Sean in concerend but there were a couple of new stills...





There were three wallpapers that featured Sean two that were far away shots and arty and fuzzy and this one really nice one...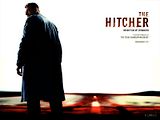 Click for the 1024 X 768 size, there are two other sizes available on the website.

Release Dates
The Hitcher:
Release date for the UK is 06 April 2007
Release date for North America is 19 January 2007